DENTES
DENTES tool – Development ENvironment for Time-Critical Embedded Systems –  has been constructed for automating the modeling and scheduling phases of the proposed methodology. From a system specification, the respective time Petri net model is automatically generated, and the pre-runtime scheduling is performed, hiding the details for non-specialized users. Figure 4 depicts a screenshot of DENTES tool.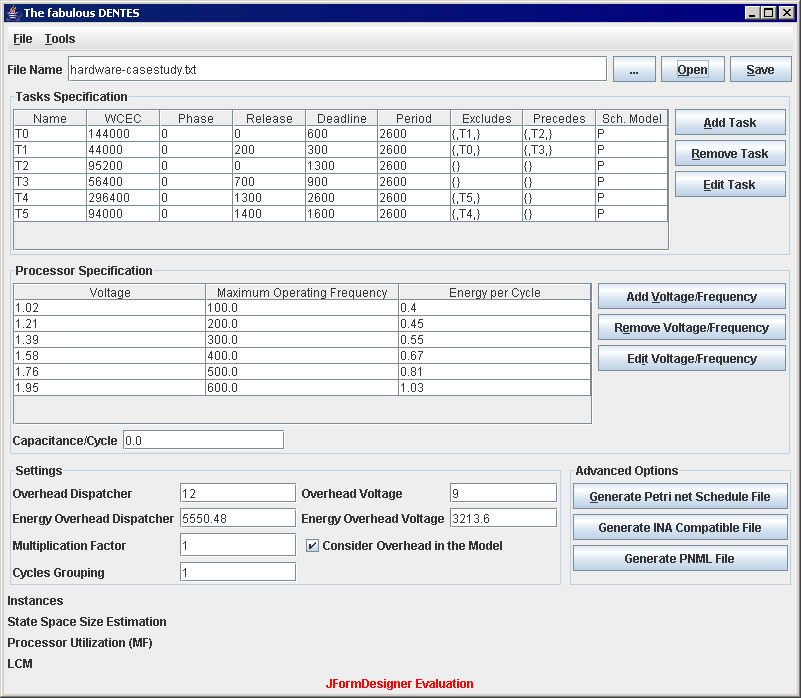 Figure 3
Manual
Currently, the manual is available only in portuguese. Click here for a copy.
Download
If you want a copy of DENTES or AMALGHMA tool, please, enter in contact with Prof Paulo Maciel through prmm at cin dot ufpe dot br
Bibliography
[1] Phatrapornnant, T., Pont, M., 2006. Reducing Jitter in Embedded Systems Employing a Time-Triggered Software Architecture and Dynamic Voltage Scaling. IEEE Trans. on Comp., 55(2):113–24.
[2] B. Efron, R. Tibshirani, An Introduction to the Bootstrap, Chapman and Hall, 1993
[3] Chung, C., Simulation Modeling Handbook – A Practical Approach CRC PRESS,  2004.